Today is the 5th day of the Hebrew month of Shevat, and the holiday Tu B'Shevat (literally "15th of Shevat") is 10 days from now.

In the spirit of taking time to mentally and physically prepare for this holiday- a Rosh Hashanah for the trees- I share with you the Tu B'Shevat seder plates and sets of accompanying cups my mom and I made together over the last year or so.

We made these ritual objects to enhance our kavannah / intention for Tu B'Shevat, to elevate our experience of the holiday, to bring Torah to the center of the ritual. And I'm happy to say that they are now available for purchase in my Etsy shop.
My mom "threw" the plates on her potter's wheel and I carved the words in Hebrew and English: "A land of wheat and barley and grape vines and figs and pomegranates; a land of oil- olives and date honey." (Deut. 8:8)

אֶ֤רֶץ חִטָּה֙ וּשְׂעֹרָ֔ה וְגֶ֥פֶן וּתְאֵנָ֖ה וְרִמּ֑וֹן אֶֽרֶץ־זֵ֥ית שֶׁ֖מֶן וּדְבָֽשׁ׃

This verse celebrates the diverse produce of the Land of Israel's trees, grasses and vines. 7 cups -for 7 species- accompany the plates. The cups may also be used for the grape juice or wine in the seder.
Behind the scenes:
I carve the words in a spiral, as I spin the plate on the potter's wheel.
About 13 years ago, my mom and I started creating together in the Skirball Institute Artists' Beit Midrash, co-led by Artist Tobi Kahn and Rabbi Leon Morris.

Over the years we have combined her ceramics with my calligraphy to build sculptures, masks, bowls and more. We share the desire to enhance life's everyday and extra special moments through Torah and Jewish tradition. Our creations are both expressive art and functional objects that bring Torah, prayer and spirituality home.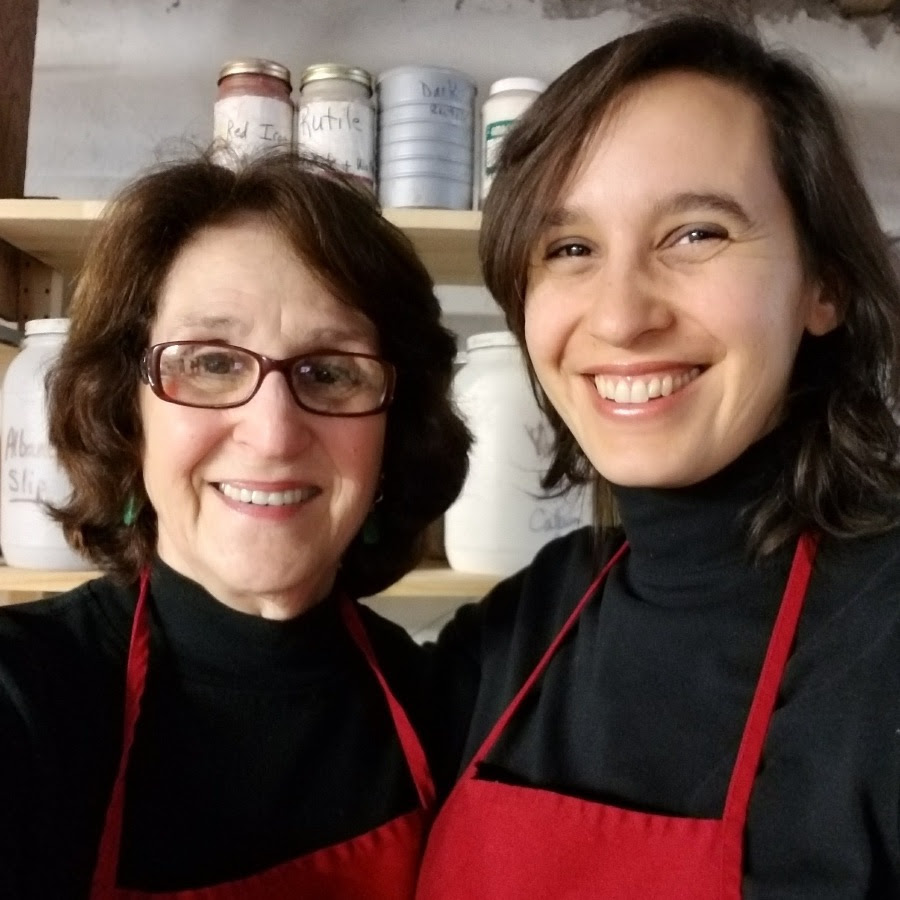 Nina Gordon (left) and Sonia Gordon-Walinsky (right) in Nina's ceramics studio.
My mom and I create many variations of ceramic blessing and mindfulness bowls and the Tu B'Shevat seder plates fit this theme perfectly.

The Tu B'Shevat seder is an approximately 400 year old tradition of food blessings and mindfulness.

Treat yourself to foods from some or all of the 7 species. Fruits with skins, pits, edible outside, edible inside… Enjoy the whole food on its own, or combined with others.

Some of my personal favorites include kalamata olives, pomegranates, and medjol dates stuffed with pistachios. This year I'm excited to involve my children in creating a dish that incorporates all 7 species- barley and wheat cooked whole, like rice, with pomegranate seeds, olives, raisins, figs and slivered almonds with Ume plum vinaigrette.

I would love to hear what you're making for Tu B'Shevat this year!

Learn more about Tu B'shevat on Sefaria.org. And, if this is your first Tu B'Shevat seder, you may find this article helpful.
With blessings for health and vitality,

Artist-Educator, PasukArt.com